ACT Dynamics is a full service Microsoft® Certified Partner that is comprised of leading computer engineers dedicated to providing effective solutions for our clients' needs. Founded by Microsoft® Certified Technology Specialist (MCTS) -Abhijit Rajderkar, ACT Dynamics  provides implementation and support for Microsoft Dynamics NAV.
ACT Dynamics's services include (But not limited):
New software implementation of Dynamics® NAV (Navision).
Data conversion from older ERP products.
Implementation of add-ons for Dynamics NAV – PCI Compliance credit card processing, E-Ship for integrated shipping with FedEx, UPS and USPS, mobile delivery interface for sales order, E-Commerce website integration, and many more.
Upgrade from older version of Dynamics NAV (or Navision) to latest Dynamics NAV 2015.
Training for all modules of Dynamics NAV.
Day-to-day user support to customers.
ACT Dynamics's corporate headquarters are located in Gainesville, FL.
Our Mission:
Serve our customers with best in class ERP software implementation services.

Our vision:
Provide world class products and services that help businesses to gather, manage, distribute and communicate information by easy to use solutions.Industry Certifications.
Download Company Profile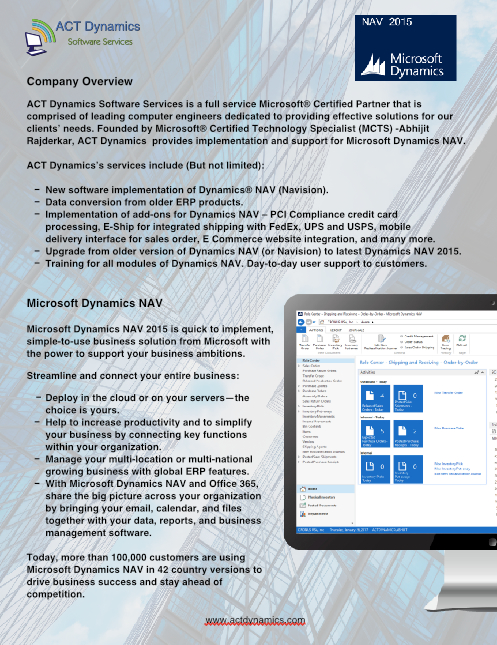 Click here to Download FactSheet